Description
"The Cats Tea Party" by Harrison Weir, is a landmark rendition of anthropomorphic cats by one of the most renown children's illustrators of the mid 19th century. This image is taken from "The Poll-Parrot Picture Book", which contains four stories, of which 'The Cats Tea Party' is just one. The book contains 24 pages of illustrations, printed in colour by Kronheim, and was published in 1871 by George Routledge and Sons. Although the illustration is unsigned, it has been attributed to Harrison Weir and is listed in the highly reputable 'Waddleton Chronology of Colour Printing' as the work of Harrison Weir. The other illustrations accompanying the story, all carry the artist's secondary 'HW logo' with triple dots.  The book itself was a popular choice. Princess Alexandra, later Queen, purchased a copy for her son George (later George V) and this copy is now held in the British Museum.
The timing of this publication comes one year after the publication of another landmark piece by Weir, "The Dogs Dinner Party" in 1870. It also remarkably coincides with his venture into organised Cat Shows, being published the same year as the first two famous Crystal Palace Cat Shows, that ultimately were the formation of the Cat Fancy as we know it.
The subject of the illustration was not uncommon during this era, having been also illustrated by Walter Crane and a number of other British children's book illustrators. But this image by Weir stands out above all the others,  both in the artistic technique , the remarkable composition and the artist's inate ability to render and imbue the cats with such apparent human traits and personalities. A work to treasure, and a "must" for the feline fancier, the image is currently available in A4, A3 and A2 sizing options and we will soon have an A1 size option available as well.
Details: 1871 – The Cats Tea Party   (Polite Conversation & Child with Cat Doll)
Details: 1871 – The Cats Tea Party    (A Captive Audience & The Tenor)
Detail: 1871 – The Cats Tea Party  (Mother with Children)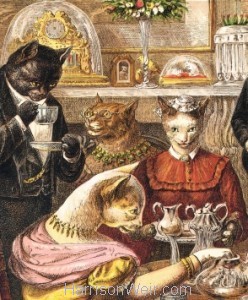 Detail: 1871 – The Cats Tea Party  (Timely Assistance)